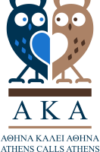 The cultural company «Athens calls Athens» signed a memorandum of cooperation with the magazine «The Athenian» of The Athenian Holding Group, which aims to provide valid information on issues related to shipping, business, economy and culture.
The aim of the cultural company «Athens calls Athens» is to promote, in addition to its activities, scientific articles, summaries of research or other type of information or announcement of scientific content in English of its friends and collaborators.
«The Athenian» was founded in April 2021, with a circulation of 3000 publications per month, which are sold in London, New York, Athens. They are also posted in kiosks all over the country. It is primarily a subscription magazine.
Those who wish are invited to send articles or abstracts – announcements of scientific and cultural content up to 700 words per page to the email: publication@athenscallsathens.gr.
The editing of the specific activity will made by Dimitris Efstathiades under the supervision of the former Vice Rector of the University of Athens, Mr. Antony Calokerinos.
For more information click here.