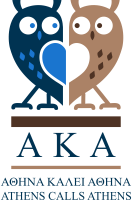 The Conference was honored by the presence and active participation of the Deputy Minister of Environment and Energy of Greece, the Regional Vice Governor of Attica Region, the Chairman of the Municipality Council of the city of Athens, the Mayor of Hellinikon-Argyroupolis city, the Mayor of Moschato-Tavros city, the Vice-President of the Cyprus Institute, the Rector of the National and Kapodistrian University of Athens, the Rector of the National Technical University of Athens, the Vice-Rector of the Harokopio University of Athens, the Vice-Rector of University of the West Attica, the Dean of the Hellenic Army Academy, the Head of the European Communication Institute and the Vice Governor of AHEPA HELLAS.
The lectures of the Professors and Researchers who participated at the Conference were focused on the topics:
1. Sustainable Development:
To what extent is the ability of future generations compromised by the use of fossil fuels? Are new energy resources of equal or even greater capacity for social, political and economic development? Is sustainable development tangible, measurable and equitable without geographical or cultural boundaries?
2. Climate Crisis and Natural Disasters
Increasing global warming is leading to a climate crisis. Is this global crisis historically the biggest challenge and opportunity for internationalizing intergovernmental cooperation before climate chaos becomes the new reality?
3. Cultural Internationalization
Cultural Heritage is a system of values and experiences, which reflects the essence and dignity of human life. It is also intertwined with identity and territory, where individuals and communities are often in competition or outright conflict.
The quality of the presentations, the innovative proposals that emerged, make the Conference one of the most important of the period we are going through.
Athens Calls Athens is here, calling you!
In order to watch the Conference visit our YouTube Channel
https://www.youtube.com/@athenscallsathens4899/videos
For more information visit our website http://athenscallsathens.gr or call +30 21099 44 859, 21099 51 142.